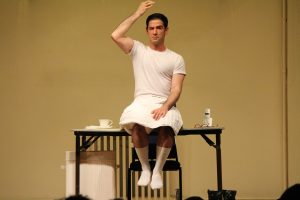 It wasn't the story that made Niv Petel's play 'Knock Knock' so fascinating, but the way it was told. The one-man show was shown as part of Spiro Ark's cultural programme – in conjunction with Central Synagogue. Ilana was played by a male (the writer of the show, Niv Petel) – which I found difficult to get my head around.
The play was about an Israeli single mother, Ilana, raising her son, Elad (Eladi – meaning living forever), through different stages of his life, whilst working as a liaison officer in the army. Her job involved knocking on the doors of parents of military personnel and informing them that their child had died in action. When his time for conscription comes, Ilana tries to discourage Elad, her only child, from taking a post that would put his life at risk, but she couldn't and eventually she receives her own 'Knock Knock'.
But that was only part of the story. Because the story was told not so much through words, but through
actions. Although it was a one-man show, the interactions with her son were so real it felt that Elad was on stage – at first as Ilana gently cradled him in a blanket, then as he grows by casually shouting to him in another room (which is quite a common child-parent interaction!) or having very normal conversations with him over the phone. Every movement and action had been finely crafted to create the impression of the other, to such an extent that even Elad's, rebellious personality shined through. Every single prop on stage had been carefully selected – a towel was used to heal war wounds but in other scenes was also used to hold Elad in his mother's arms and still later as a towel to bathe on the beach. And each simple action was used to enrich the performance – when Ilana prepared a meal for her son she chopped the invisible vegetables with such accuracy it felt as if I could eat them.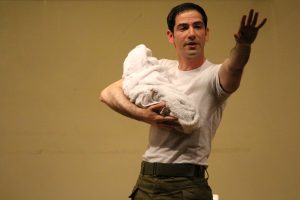 There were also the more abstract parts to the play, which as Petel was keen to point out in the discussion afterwards, were interpretative and each audience member could have their own take on it. For me the first scene of the play was about a soldier wounded in action and then trying to mend his own wounds with stiches and bandages, but a friend of mine said it reminded her of the art of kintsugi – the Chinese art of repairing precious ceramics giving them a new lease of life so that the pottery becomes even more refined.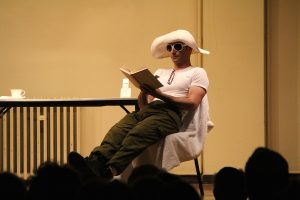 Indeed, the discussion with Petel afterwards was an illuminating part of the evening. Not least of all because after the one hour's performance where every one of his actions was being watched and interpreted, Petel was able to calmly and with ease and energy answer the audience's questions. Some audience members were extremely knowledgeable about this genre of theatre and when an one referred to it as 'mime' another disagreed and said it was 'sensorial' and I have to agree because it did indeed seem like he was trying to provoke the audience's senses and that he was not simply trying to convey a series of events. We learnt the he had come to the UK four years ago, after having trained as an actor in Israel and that he created the show as part of the degree that he was completing. What was clear was that Petel was passionate about his work. And by the end of the performance I think all the audience were as well.
Knock Knock – an award winning play by Niv Petel