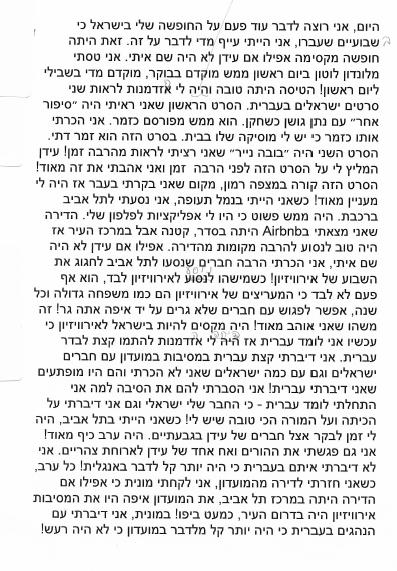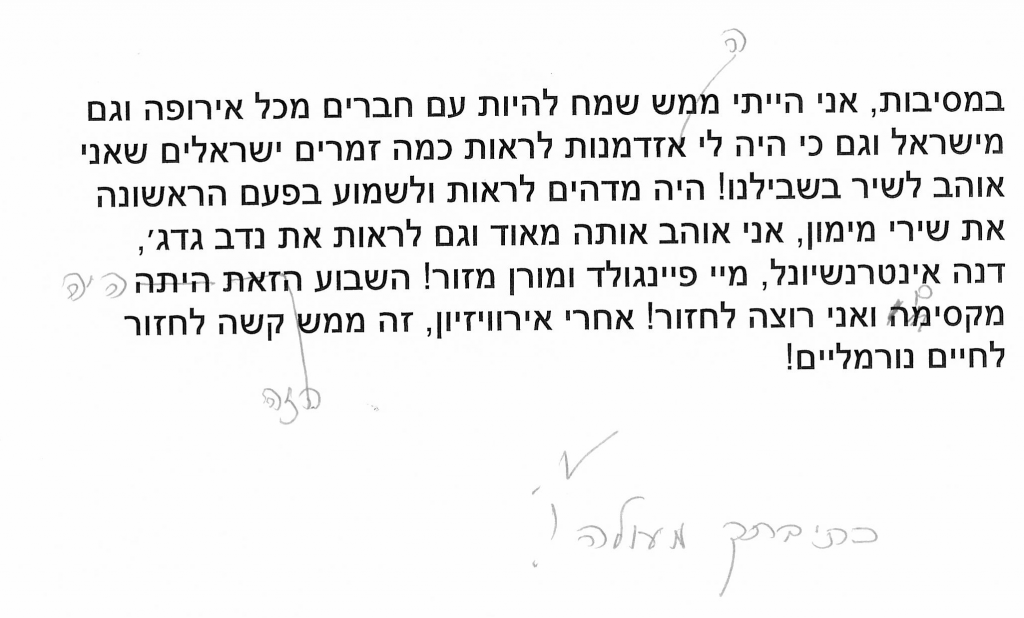 Alex at the Eurovisiion in Tel-Aviv
Today, I want to speak once again about my holiday in Israel because in the past 2 weeks I was too tired to speak about it.
It was an enchanting holiday even though Idan was not there with me. I flew from London Luton on Sunday really early morning, far too early for me for a Sunday. The flight was good and I had the opportunity to watch two Israeli films in Hebrew.
The first film I saw was Sipoor Akher ( Another Story) with Nathan Goshen as an actor. He is very famous as a singer. I know him as a singer as I have his music at home. In this film he appears as religious singer.
The second film was Bubot Niyar ( Paper Dolls) which I wanted to see for a very long time. Idan recommended this film to me a long time ago and I loved it very much. This film happens in Mitzpe Ramon a place which I visited in the past and therefore it was very interesting for me.
When I arrived at the airport I went to Tel-Aviv by train. It was very simple as I had an app on my phone. I found the flat on Airbnb, it was ok, small but in the centre of the city so it was good to travel to many places from the flat. Although Idan was not there with me I knew a lot of friends who travelled to Tel-Aviv to celebrate the week of the Eurovision. When someone travels to Eurovision on their own they are never alone because the admirers of the Eurovision are like a large family and every year one van meet friends who do not live next to you otherwise! It is something that I very much love! It was Enchanting to be in Israel for the Eurovision because now I study Hebrew so I have the opportunity to cope with a little bit with the language.
I spoke a little Hebrew in parties, in clubs , with Israeli friends and also with a few Israelis that did not know before and they were amazed that I spoke Hebrew. I explained the reason why I started to learn Hebrew – because my friend is Israeli but I also spoke about my class and the very best teacher!
When I was in Tel-Aviv I visited Idan's friends in Givatayim. It was a lovely evening. I also met the parents and one brother of Idan for lunch. I did not speak Hebrew with them because it was easier to speak English. Every evening when I return to my flat from the club I took a taxi because even if the flat was in the centre of Tel-Aviv but the club were the Eurovision parties were was in the south of the city, nearly in Jaffa.
In the cab I spoke with drivers only in Hebrew because it was easy to do so and it wasn't noisy as it was in the clubs and at parties. I was so happy to be with friends from all over Europe and also from Israel and also that I had the opportunity to see a number of Israeli singers wose singing to us I loved…