It has been more than 20 years, since my A' levels, that I have been to anything approaching a literary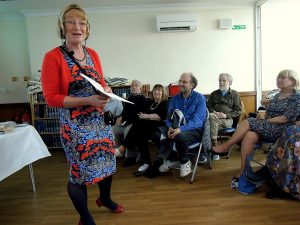 talk – so I was a bit nervous when I sat down to listen to the vivacious Pam Fox talk on literary Golders Green last week at Hampstead Garden Suburb shul, with the assistance of her husband who gave readings. However, I needn't have been nervous – the main aim of the evening was to enjoy literature with likeminded people and not to analyse text.
Fox's talk was divided into two sections – authors who had connections to Golders Green and secondly how Golders Green has been portrayed in literature. Fox was amply qualified to give the talk, having written the book – 'The Jewish community of Golders Green: A Social History' (2016, The History Press).
In the section about authors who had lived in the area, I must admit to have not heard of many of them – although it was clear that they were familiar to many in the audience. Figures mentioned included Mark Arkeside; Dan Jacobson and Emanuael Litvinsoff. Of course, even I had heard of Simon Schama, the renowned historian, who lived in Sinclair Grove during his youth. Although it is easy to imagine Hampstead Garden Suburb (HGS) being a hubbub of literary activity, it is clear from Fox's research that there were also great discussions and happening in Golders Green and Temple Fortune as well.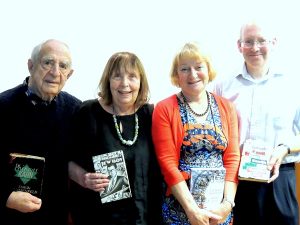 Fox then went on to discuss the books that mentioned Golders Green and these were divided into four categories: a) Literature on Migration b) Social Change c) Literary of place and d) Jewish life and identity. She spoke about all the books enthusiastically letting the audience have an open mind as to which they would enjoy.
Jews of course migrated to Golders Green, not only from Europe but also from the East End and the cultural difficulties from both moves were immense as the readings from both Robert Goldmann's Wayward Threads (1997) and Simon Blumenfeld's Jew Boy (1935) clearly illustrated.
Of the 'Social Change' books Pam reviewed the group of novels became known collectively as the 'Golders Green novel' and included such works as Brian Glanville's The Bankrupt (1958) Chaim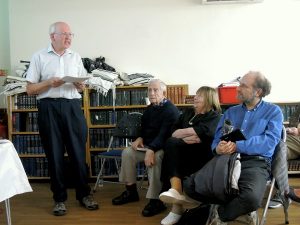 Bermant's Jericho Sleep Alone (1964) and Bernard Kops The Dissent of Dominik Shapiro (1966) with their common theme being that they were by 'angry young men' chronicling the superficiality of Jewish life. It was interesting to note the backlash that these books received and that the Jewish Chronicle received so many letters of complaints about them that they had to publish a special supplement.
The section on Literature of Place included not only Simon Schama, who although is known mainly as a historian has also written several times of his memories of Golders Green, but also Naomi Alderman's Orange award winning book Disobedience (which is soon to be released in a film). The excerpts of these books and their descriptions of Golders Green as an alive and quintessentially Jewish place resonated with me and many others in the audience.
The last category was – Identity and Jewish Life – a group of books which Fox argued, stemmed from a new confidence in Jewish life, where writers are not displaying a communal angst at not being sufficiently Jewish. These books included, Eve Harris The Marrying of Hanney Kaufman (2013), Andrew Sanger's The J-word (2009) and Francesco Segal's The innocents (2013). Harris' book which was long-listed for the Man booker prize. Fox pointed out that this book is not one simply one story, but three interwoven plots. However it was Segal's book that most piqued my interest – based loosely on Wharton's The Age of Innocence, about a 28-year-old jewish catch due to marry his childhood sweetheart but feeling slightly claustrophobic at the heart of Jewish North West London he starts to get itchy feet at falling for his younger cousin Ellie. I had to wait until the end until I could find a book that really piqued my interest –but it was worth the wait.
I felt that what would have improved the talk was more background information as to how the Golders Green had changed over the years, but all in all Literary Golders Green was a very enjoyable and not so scary evening.
Sharonrossblog.com