Spiro Ark , HGSS and Harif invite you to the book launch of
The Baghdadi Jews in India
Maintaining Communities, Negotiating Identities and Creating Super-Diversity
With Professor Shalva Weil and Dr Sara Manasseh
This important book, published in July 2019 by Routledge, will have its UK launch in the presence of its editor, Shalva Weil from Israel, speaking on "Super-diversity among Baghdadi Jews" and Dr Sara Manasseh, presenting her chapter on "Music traditions in the Baghdadi Jewish communities of
Bombay and Poona" (with musical interludes). Other chapters cover schools, institutions and culture. The book explains how Baghdadis in India managed to maintain their communities and retain multiple identities in a stratified and complex society.
How did the Baghdadis successfully adapt to changing conditions during the Raj, while retaining their traditions, and absorbing new ones?
Copies of the book at 50% discount will be available, as will a flyer for 50% online discount
REFRESHMENTS AVAILABLE
Shalva Weil is Senior Researcher at RIFIE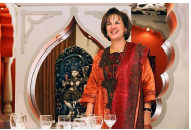 (Research Institute for Innovation in Education) at the Hebrew University of Jerusalem, where she researches ethnicities, migration and femicide. She is a graduate of the L.S.E and received her D. Phil from Sussex University for a thesis on the Bene Israel Indian Jews living in Lod, Israel. She is the editor of several books on India's Jews, including India's Jewish Heritage (Marg, (2002) 2009) and co-editor (with Prof. David Shulman) of Karmic Passages: Israeli Scholarship on India (Oxford University Press, 2008). Prof. Weil has published 100 articles, chapters in books and journals, and encyclopaedia entries on the Baghdadi Jews, Bene Israel, Cochin Jews, and the 'Bnei Menasseh'.
Dr. Sara Manasseh is an ethnomusicologist and performer of

the music traditions of the Jews of Iraq. She was born in Bombay, moving to London (UK) in 1966. Her family, originally from Baghdad, settled in Bombay during the 19th and 20th centuries. She is a direct descendant of David Sassoon, who fled persecution in Baghdad, arriving in Bombay in 1832. Dr Manasseh is the founding director of the ensemble, Rivers of Babylon (London, 1999), performing Judeo-Arabic songs of the Iraqi Jews, middle-eastern instrumentals and vintage Bollywood songs. Her publications include articles and the book, Shbahoth – Songs of Praise in the Babylonian Jewish
Tradition: From Baghdad to Bombay and London (2012, Ashgate) with accompanying CD:
More Precious than Pearls.
Date: Wednesday 18th December 2019
Time: 19.00 for 19.30 start
Venue: Hampstead Garden Suburb Synagogue, Norrice Lea, London , N2 0RE
Tickets: £10
Bookings: online on www.spiroark.org , By phone: 02077944655, or email
education@spiroark.org, info@harif.org