The Annual Spiro Tribute Lecture is sponsored by the Pears Foundation to celebrate the tremendous work of Robin and Nitza Spiro and their contribution to Jewish cultural life in Britain over more the last 40+ years. Professor Reichman Founder of IDC Herzliya, Israel's first private and nonprofit university. He has won awards for his extensive and significant contribution to the advancement of higher education in Israel. In this keynote he will explore the identity crisis facing Israel, looking at whether it can continue to be a Liberal Democracy or take on a non-liberal form based on the interests of the Ultra-Orthodox.
This year we are privileged to welcome professor Uriel Raichman, president and founder of the Interdisciplinary Centre Herzliya, as the guest speaker at the Annual Spiro Tribute event. Twenty five years ago professor Reichman set out on an adventure. He sought to fulfil his dream of establishing a new type of academic institution: a non-profit, private university that calls for freedom and responsibility – the freedom for self-fulfilment, alongside the responsibility for other beings in society. He left the prestigious position of a Dean of Law Faculty at the University of Tel Aviv and embarked on a
challenging journey of setting up a university for the third millennium – where personal achievement goes hand in hand with social responsibility.
Robin Spiro the founder of the Spiro Institute and later the Spiro Ark, a successful businessman and entrepreneur ( St. Christopher's Place) also
dreamed of the brighter future and survival of the Jewish people against the rapid loss of identity and dedicated his life to education about the
universal values of Jewish heritage while facing many obstacles on route.
Just like Professor Reichman, Robin Spiro never gave up and succeeded in his mission to educate people and instil love, kno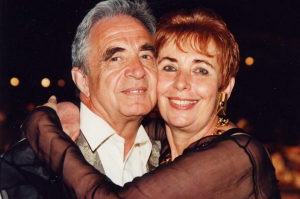 wledge and appreciation for Jewish history, culture and the Jewish heritage on Jewish and non-Jewish audience.
Both Professor Reichman and Robin Spiro are examples that passionate individuals who believe in their dreams can achieve "the impossible" despite many pessimistic forecasts and obstructions on the way.
These two men with their dedication to their causes and their belief succeeded, against all odds, in the realisation of their dreams . They have made an amazing impact and may their inspired work continue for years to come.
This annual tribute is awarded to Nitza and Robin Spiro for their four decades long, incredible contribution and revolutionary approach to Jewish
education and culture in the UK and beyond.
Date: Wednesday 5th of February 2020
Time: 7.30pm
Venue: JW3, 341-351 Finchley Road, London NW3 6ET
Tickets: £12 – £15
Bookings: https://www.jw3.org.uk