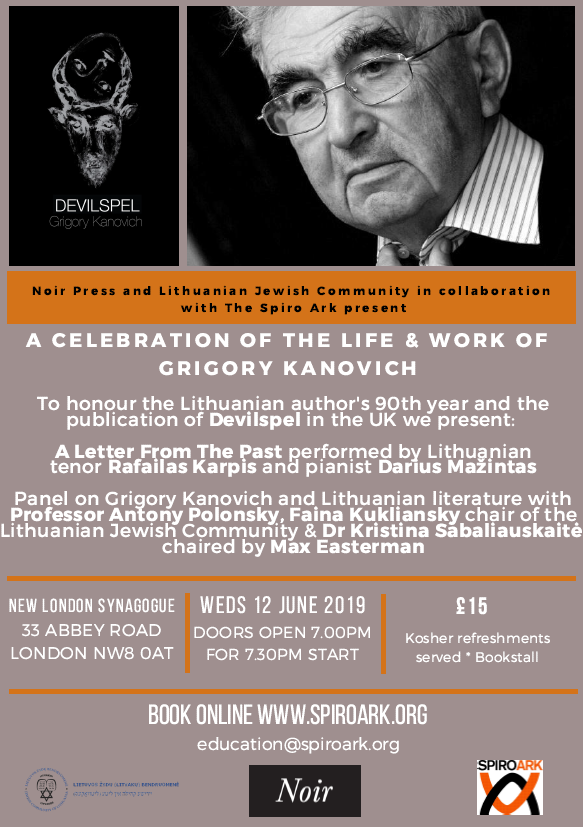 Noir Press and the Lithuanian Jewish Community in collaboration with The Spiro Ark present
Musical and literary extravaganza to celebrate the life and work of Lithuanian bestselling GRIGORY KANOVICH upon his 90th birthday and the UK publication of Devilspel
"One of the most important Jewish authors of our time" –
Forward Magazine
Grigory Kanovich, one of the most prominent modern Jewish writers, was born in Lithuania on 18 June 1929. To celebrate his 90thyear and the publication of his second book which Noir Press have published in English, Devilspel, his UK publishers and the Lithuanian Jewish Community have collaborated with The Spiro Ark to present a rare opportunity on Wednesday 12 June for a British audience to hear A Letter From The Past, a collection of Yiddish songs performed by Lithuanian tenor Rafailas Karpis and pianist Darius Mažintas. The performance portrays a vivid picture of early 20th century Europe and the social problems, cultural peculiarities, experiences, feelings and personal tragedies of that epoch.
The performance will be followed by a discussion between a stellar panel of authors and experts on Grigory Kanovich and writing from Lithuania: Professor Antony Polonsky author, historian and Professor Emeritus of Holocaust Studies at Brandeis University, Faina Kuklianksy, Chair of the Lithuanian Jewish Community and the award-winning Lithuanian author Dr Kristina Sabaliauskaitè. The conversation will be chaired by journalist and broadcaster Max Easterman. New London Synagogue will host this musical and literary extravaganza from 7.00pm for a 7.30pm prompt start on Wednesday 12 June 2019 at 33 Abbey Road, London NW8 0AT.
About Devilspel by Grigory Kanovich:
"questions human and divine justice in a world gone mad" – Dr Paul Socken, Distinguished Professor Emeritus, University of Waterloo.
Grigory Kanovich is one of the most prominent modern Jewish writers. Born into a Jewish family in the Lithuanian town of Jonava on 18 June 1929, he fled war-stricken Lithuania with his parents in 1941. The family returned to Vilnius in 1945 and His first autobiographical novella, I am Looking at the Stars was published in 1959. Kanovich has written more than ten novels – a virtual epic saga – dealing with the vicissitudes of the history of Eastern European Jewry from the 19th century to the present day. His books have been translated into twelve languages and more than 1.5 million copies of his books have been sold. The play "Smile Upon Us, Lord" based on his novels has been a hit in the UK and USA. Devilspel, translated Yisrael Elliot Cohen, is the second of the author's books to be published into English. It was published on 12 March 2019 by Noir Press in paperback at £12.00 (288 pages) ISBN: 978-0-9955600-5-5 www.gknaovich.com
About the performers:
Pianist Darius Mažintas is a graduate of the Lithuanian Academy of Music and Theatre, and the winner of numerous national and international music competitions. He has recorded several albums, including a solo album (2011), containing pieces by Bach, Beethoven and Scriabin. Rafailas Karpis is an award-winning Lithuanian opera singer. A graduate of the Lithuanian Academy of Music and Theatre, Rafailas has been performing with the Lithuanian National Opera and Ballet Theatre since 2003. He has performed more than thirty opera roles with conductors including Tomomi Nishimoto, Stefan Soltesz and Vasilij Petrenko, as well as with directors like Anthony Minghela, Jean Claude Berutti and Eimuntas Nekrošius.
About the speakers:
Professor Antony Polonsky is Professor Emeritus of Holocaust Studies at Brandeis University specialising in Eastern European Jewish History and Holocaust studies and is an award-winning author of numerous works on the politics and history of Eastern Europe. He is the recipient of many awards and is a member of the International Commission for the Evaluation of the Crimes of the Nazi and Soviet Occupation Regimes in Lithuania and Chief Historian, POLIN Museum of Polish Jews, Warsaw.
Faina Kuklianksy is Chairperson of the Jewish (Litvak) community of Lithuania, and Advocate and Chairperson of the Jewish community of Vilnius. Faina has been a practicing lawyer and arbiter since 1977, and is a member of several Lithuanian and international law associations and Jewish organizations. After the restoration of Lithuanian independence she was elected as a member of the first board of the Jewish community of Lithuania. Later she became active as a lawyer representing Jewish communities of Lithuania.
Dr Kristina Sabaliauskaitè's four-part historical novel Silva Rerum is an international bestseller and was shortlisted for the final of the ANGELUS Central European Literary Prize. Her native multicultural Vilnius is a recurring inspiration and Sabaliauskaitė fights the oblivion giving the voice to the living memory of the communities that perished after the World War II thus recreating the lost world of Jewish Vilne and Polish Wilno. She lives in London. Vilnius. Wilno. Vilne: Three Short Stories is also available in English. www.sabaliauskaite.com
Max Easterman is a respected and award-winning journalist, broadcaster, presenter and producer of features, documentaries and news features. He has presented and produced some of the BBC's flagship programmes such as The World Tonight and Newshour, and has worked alongside some of the top names in broadcasting. Max speaks several languages and for the last 20 years has been involved in training broadcast journalists across the world and teaching journalism at all levels. His heritage is Lithuanian Jewish.